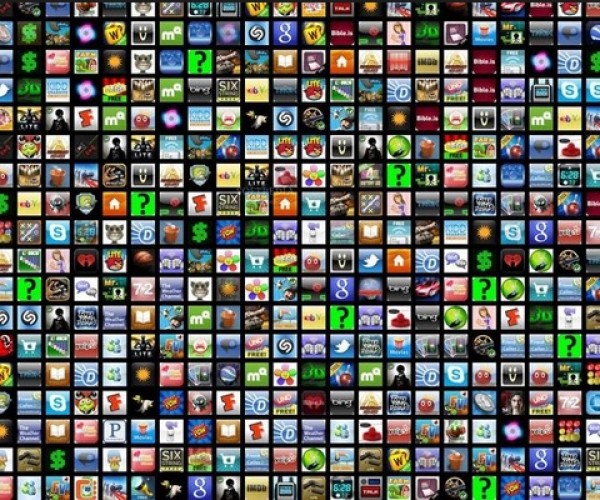 Tech can be leveraged to raise awareness about bullying and help people access data, information, knowledge and get experienced about almost everything, including health.
And health is one of the possible targets that bullying attacks have.
Indeed all bullied people suffer dramatic health problems, such as depression, anxiety, eating disorders. A deteriorated health is always one of the bullying consequences.
During last two years, we heard of a lot of new apps aiming at solving or fighting and contrasting bullying.
Bullying cannot be stopped but surely the more people know and share stories, data and information about it, the better it can be known, identified, monitored and prevented. And by the way, technology may hit such goals.
Tech, and expecially coding, is the king while apps are the queen. In other words, there are a lot of apps specifically developed to fight bullying after the rising number of suicides due to bullying.
Let's pick up 7 apps specifically developed to fight bullying:
KnowBullying
Stop!t
BullyButton
MyMobileWatchdog
NetNanny
BullyTag
AnonymousAlerts
1. KnowBullying
This app was created by the SAMHSA, the Substance Abuse and Mental Health Services Administration.
It is basically an app for parents, specifically developed to make them raise awareness and strengthen their dialogue with teens and tweens. The app is aiming at improving both the conversation and the bonding that parents have with their children, but it also supports the parental responsibility and supervision in educating the youngest expecially when they access new media. The goal is to create sharing moments and spot ths signs of bullying. This app is totally free.
2.Stop!t
Todd Schobel thought that this app could serve the same goals in several contexts, ranging from workplaces, military and college campuses. Stop!t allows witnesses to report on bullying as it happens. Witnesses can anonymously report bullying. But when downloading the app they have to select who are the trusted adults to report whom  in order to notify them immediately as soon as one refers or reports cyberbullying events.
There is also a Helpit button to give assistance (by call or texting) through a 24/7 crisis support network.
The app is free per students, while schools must pay per student yearly.
3. BullyButton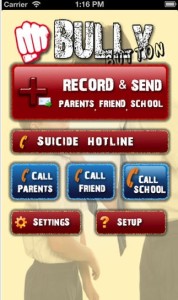 By my opinion BullyButton is a great app that hits the bull's eye. Indeed it allows children to record incidents and send them to adults with a single click of a button. When used for the first time, the user has to identify trusted adults to notify whom and set up for how long audios should be recorded. Then, they are automatically sent. In particular, messages are continuously sent to the recipients until they are opened. From the app is possible to make call directy to parents, adults, school administrators and to access suicide hotline.
The cost is the same for both schools and children, equivalent to 0.99 dollar.
4. MyMobileWatchdog
This app is specifically developed for parents to make them monitor their children's activity and interactions on their mobile devices.
MyMobileWatchdog has several functionalities:
blocking apps and websites
setting time limits
call and text limits
approving new contacts
tracking via GPS
disabling apps at certain times.
The My Mobile Watchdog app gives access to a subscription based service provided by eAgency Mobile Security, Inc.. The cost is $ 14.99 per month ($ 99.99 yearly) for up to 5 children's smartphones.
5. NetNanny
This app permits parents to filter and control their children's activity. It can be used in PC and in other devices to prevent any kind of problem and danger due to an unexpert and incautious use of internet or web surfing from digital natives.
This app can be used in social networks as well as in other risky websites or most popular social media among children.
Its limit is that the information that is stored about visited websites only lasts for 24 hours.
The cost of the app depends on the licences and subscriptions that user wants depending on the number of devices.
6. BullyTag
BullyTag helps users to report bullying without being identified, by the way anonymously to school officials and administrators.
Thus by doing, those who witness bullying may send information to those who are in charge of the supervision of classrooms.
The app is free for students but not for schools. It can also manage videos, texts, images, audios.
7. AnonymousAlerts
Gregory Bender built this app after the Sandy Hook shootings and he the same was bullied in his childhood.
This app is free for students, while schools pay depending on the number of students.
The app allows reporting of bullying that a witness sees or hears but it also makes the user experience a two-way conversation with the school administrators. Not only is this app made to report bullying but also drugs usage and other school problems, but it is also possible to attach videos, screenshot or other data about bullying in order to document it a more detailed and documented way.